Digital marketing agency Little Mesters has secured three new clients, strengthened its in-house team and expanded its network of expert freelancers as it continues to grow during its first year.
The Sheffield-headquartered agency has won contracts with Sheffield FC, Jessica Flinn Jewellery and Sheffield Steel Rings in the first two months of 2021; taking its total client roster to 11.
Little Mesters is delivering social, email marketing and digital advertising strategies and projects for Sheffield FC – the world's oldest football club – as the heritage brand launches its new website.
Briefs for Jessica Flinn Jewellery and Sheffield Steel Rings span PPC, social media advertising, copywriting and creative.
The agency's recent wins adds to its portfolio of nationwide clients including Birds Eye Food Services and drinks brand Baijiu Society.
Little Mesters has also hired Becky MacTaggart as social mester and Charlotte Scott as operations mester. Both will project manage the agency's expanding portfolio, alongside dedicated freelance support.
The agency was founded by head mester Tom Scott in August 2020. In recent months, it has also started working with several more freelancers across PPC, copywriting, SEO, PR and photography disciplines to build further on its bank of experts.
Scott said: "Establishing an agency has been a huge learning curve but I am pleased to see how our model of providing flexible, expert and bespoke digital marketing services has supported our clients to achieve their objectives.
"I'm delighted to be working with such a range of credible businesses and am thrilled to win three new contracts in the first couple of months of 2021.
"When I launched Little Mesters, I had a vision to execute and deliver honest, creative and result-driven services for all budgets while embracing collaboration and striving for excellence.
"We have scaled-up quickly in the first seven months and I'm delighted to welcome Becky and Charlotte to the team to add expert skills in-house alongside our expanding freelance network to prepare for further growth this year."
:::
Leeds-based digital agency Bolser has been hired by M12, Microsoft's San Francisco-headquartered venture fund, to design, develop and promote a new website that will help drive its ongoing global investment strategy.
M12 appointed Bolser after holding a global pitch process across its approved supplier network which includes some of the world's most high-profile digital agencies.
Bolser has been an approved Microsoft supplier for five years providing digital consultancy and development services to Xbox Channel Marketing and ExpertZone.
Founded in 2016, M12 has invested between US$1m-US$20m of equity in more than 100 enterprise software companies located throughout the world with a focus on applied AI, business applications, infrastructure, security and vanguard technologies.
The fund is also a vocal supporter of increased diversity in tech, and sponsors Colorintech, an organisation dedicated to making Europe the most inclusive and equitable tech hub in the world.
M12 chief marketing officer, Colleen O'Brien, said: "We invest in a diverse range of entrepreneurs building the next generation of business technology, so we need to be able to provide digital platforms that attract, impress and engage them.
"We were aware of Bolser's great reputation within Microsoft so we wanted to see how the agency would respond to our brief.
"They showed an exceptional level of insight and creativity and really understand the importance of diversity, inclusion and accessibility to our strategic objectives.
"This convinced us that Bolser was the ideal partner for us and we're looking forward to seeing what we can achieve together."
Bolser's pitch was led by head of design, Hanneka Kilburn, with the account handling, design, development and promotion of the M12 website being undertaken by a predominantly female team.
Kilburn said: "Winning the M12 pitch is a great way for us to mark the start of our twentieth year in business.
"It is testimony to the great work we have previously done with Microsoft and also to the creativity, strategic thinking and excellent implementation we are able to provide.
"M12 is a progressive organisation that is committed to reinventing corporate venture capital. The fund moves with the agility and speed of a startup to get deals done quickly, so it is a very refreshing and exciting firm to be working with.
"We have started the project at pace and are keen to further develop our relationship with Colleen and the rest of the M12 team as we progress."
:::
Leeds-based Insight Agency, Blue Yonder Research, has announced the launch of its new R&D Insight Facility – Sense:Lab.
Sense:Lab is an ISO standard product testing facility. In combination with Blue Yonder's proprietary participant panel, Qualitative, Data Science and Video Content teams, it provides a single solution for R&D insight.
The agency has also hired five new recruits across all levels, including a senior operations manager, sensory manager, qualitative manager, senior research executive and a graduate research executive.
Blue Yonder's core work is within product testing. It works to helping clients find their edges to deliver superiority and win competitor advantage.
Sense:lab includes sensory booths, dedicated product preparation areas and three large meeting rooms on the ground floor offering flexible project and working space.
Richard Heath, MD at the agency, said: "Every detail of this facility has been designed in partnership with our clients.
"From the ventilation capacity, to the dynamic lighting, to the two way hatches. It's the details that make impactful R&D insight."
Sense:Lab will be open and available as soon as COVID-19 restrictions lift.
:::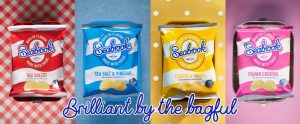 Full-service marketing agency, Principles has unveiled a national TV advertising campaign for Seabrook Crisps, capturing the brand's new theme for 2021, "Brilliant By The Bagful".
The campaign, which is set to run throughout the year in partnership with ITV, launched on 1 March.
Head of marketing at Seabrook, Neil Gibson, said: "We are absolutely delighted to be taking the Seabrook brand back on TV after an absence of almost 15 years and the advertisement truly reflects our charm and personality perfectly, capturing its essence, character and wit."
Produced during the Covid-19 pandemic with strict safety measures and social distancing restrictions in place, 'Brilliant By The Bagful' was shot in Manchester over two days, across six locations.
The ad features a new take on the classic 'Hold Me Close' by David Essex and covers the brand's core flavours Sea Salt & Vinegar, Sea Salted, Cheese & Onion, Prawn Cocktail and Beefy.
Liz Bryne, client services director at Principles, added: "It was an absolute pleasure to work with such an iconic Yorkshire brand.
"We're passionate about helping businesses to grow using our core strength, which is to develop big ideas which evolve from genuine insight.
"We feel the final output of our working together is a perfect representation of what Seabrook stands for and where they're heading as a brand.
"The initial feedback we've had from social media has been fantastic and we're excited to see how awareness increases over the coming weeks."
Principles employs 24 staff at its Leeds headquarters and works with brands such as Ronseal, Astonish, Valspar, Yorkshire Cancer Research and many more.