Analysts See Unexpected Rise in On-Premises Mobile Dev Platform Deployments
With everything moving to the cloud, research firm Gartner Inc. noticed an unexpected rise in on-premises mobile app development platform deployments in its latest Magic Quadrant report. Mobile analysts also noted a more specific role for such platforms.
"Over the years, MADP offerings have moved from primarily on-premises software deployments to the cloud," Gartner noted in its "Magic Quadrant for Mobile App Development Platforms" report, published last month. "However, based on the results of our customer survey, the shift to cloud deployment has stalled."
Cloud deployments from the 2017 MADP report to 2018 barely moved, with just a 1 percent hike in the number of respondents opting for cloud deployments of their MADPs (39 percent to 40 percent).
On the other hand, the company noted a "surprising shift" in on-premises deployments, from 31 percent last year to 38 percent this year, with a corresponding drop in hybrid cloud deployments, falling from 30 percent last year to 22 percent this year.
"Although, through our client inquiry service, we continue to see growing interest in, and adoption of, cloud offerings, the unexpected rise in on-premises deployments could be attributed to late adopters, who tend to be more conservative about cloud adoption," said Gartner analysts. They added they still recommend cloud deployments, "given the high level of maintenance required to keep up with the constant stream of mobile device and OS updates."
Otherwise, it was mostly business as usual in the new report, which listed perennial leaders OutSystems and Kony atop the "ability to execute" and "completeness of vision" axes, respectively.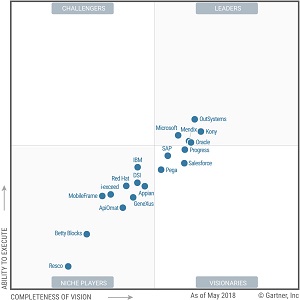 Joining those two companies in the "Leaders" section of the "Magic Quadrant" were Mendix, Microsoft and Oracle. Kony touted its inclusion as a leader for the sixth year in a row.
This year's report added ApiOmat, Appian, Betty Blocks and Resco, while Adobe and Axway (Appcelerator) were dropped. Gartner said such additions/drops may reflect a change in the market and, therefore, changed evaluation criteria, or a change of focus by a vendor.
In the 2018 report — based on a survey of 82 MADP reference customers of MADP vendors — Gartner noted a key finding regarding a change in the top reported reasons why customers purchased a MADP.
This year's top three reasons were reported as:
To create internal operational efficiencies




To enable digital transformation




To reduce time to market for mobile apps
"By comparison, the No. 1 reason in the 2017 survey was 'to drive innovation,' which came fourth this year," Gartner said. "Digital transformation was not among the top five last year, but is No. 2 this year. These findings indicate that MADPs are now serving a more specific role in support of businesses' digital initiatives, as opposed to simply a means of fueling general innovation."