A retired US Air Force B-1B bomber will serve as an integration laboratory at Edwards AFB in California.
The aircraft, 86-0999, is one of 17 B-1Bs recently retired by USAF. It flew to Edwards on 23 February where was christened as the Edwards Aircraft Ground Integration Lab (EAGIL), says the Air Force Life Cycle Management Center.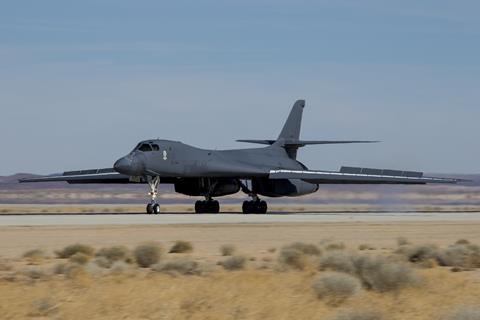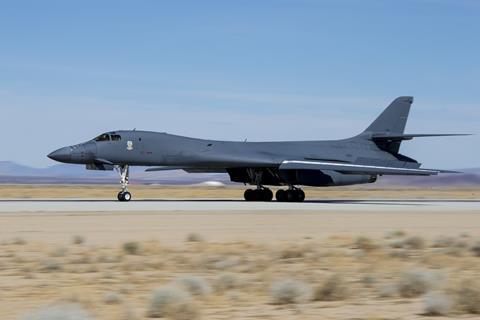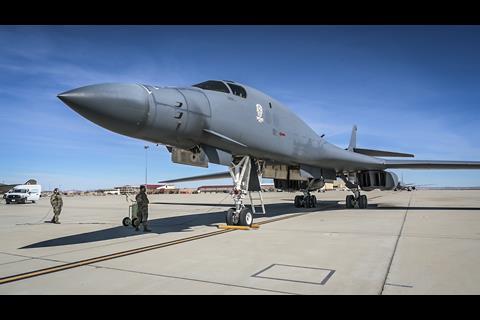 "EAGIL will be a non-flyable aircraft that will be used as an integration lab for future upgrades," says Stephen Salas, B-1 platform lead, Global Power Bombers Combined Test Force.
"We plan to do avionics software, weapon and hardware testing, new equipment fit checks, prototyping efforts and EAGIL will be used to support weapon load training, egress training, as well as aircraft familiarisation for new personnel."
USAF estimates that EAGIL will save 100-200 days of scheduled downtime for its pair of developmental test aircraft.
A review determined the systems EAGIL needs to retain, and the aircraft will remain capable of being towed.
"Retiring aircraft with the least amount of usable life allows us to prioritize the health of the fleet and crew training," says Gen. Timothy Ray, commander Air Force Global Strike Command.
"Our ability to balance these priorities will make us more capable and lethal overall. The divestiture of the B-1 is necessary in order for the Air Force to create an even more lethal, agile and sustainable force with a greater competitive edge for tomorrow's fight."
Originally intended penetrate Soviet air defences using a high-speed, low-level mission profile with its wings swept, the B-1B found a new career in the 2000s as a high altitude platform providing tactical bombing support in theatres such as Afghanistan.
This work, which involved flying at medium altitudes with wings extended, created significant unanticipated stresses, resulting in unforeseen structural issues with the B-1B fleet.
USAF is retiring a portion of the B-1B fleet focus on other initiatives, namely the developmental Northrop B-21 and the re-beginning of the B-52.
Cirium fleets data shows that 86-0999 was originally delivered in 1987.