Salesforce Unveils Low-Code Mobile Development Platform
Salesforce, known for its customer relationship management (CRM) software, has extended its low-code Lightning development platform with a mobile focus.
The Salesforce Lightning Platform Mobile last week became the latest entrant into the crowded low-code space, which is continually seeing new products to address the perfect storm of a mobile development talent shortage amid exploding demand for enterprise mobile apps.
Like others of its ilk, it enables "business users" and other non-professional developers to create mobile apps with techniques such as prebuilt components and templates for projects that can be enriched with a few clicks to provide functionality ranging from the basics of data management, logic and security to cutting-edge technology such as artificial intelligence (AI).
The platform consists of a set of tools and services that Salesforce's Leyla Seka said "are fundamentally changing how mobile app development is done, empowering businesses to bypass expensive development work and deliver beautiful apps that are fast, future-proofed, and tightly connected to customer data."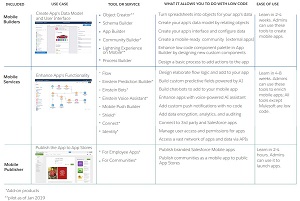 The platform's workflow consists of a three-step build/extend/launch process using the following three main components, as described verbatim by Salesforce:


Mobile Builders for creating immersive mobile experiences using a low-code development environment and pre-built JavaScript components that act as building blocks for your mobile app. With Mobile Builders, admins can easily turn spreadsheets into mobile apps, design their app's data model, and configure the app UI using simple clicks. And our AppExchange offers more than 180 ready-made components to give you a head-start.

Mobile Services that make adding backend services a breeze for business users. With Mobile Services, admins can add more power to their mobile apps with elaborate workflows, Einstein's declarative AI services, and integration to third-party data. And new with this release, admins can add mobile push notifications — all with the click of a button.

The all-new Mobile Publisher empowers admins to publish employee and customer apps directly on the App Store and Google Play. Mobile Publisher takes care of the entire packaging and submission process, making it quicker and easier than ever to get apps published and updated. Read more about Mobile Publisher here, and find out how Cornell University and Mercer are already using it to transform how they engage with students and customers.
The new Salesforce Lightning Mobile initiative builds on the Lightning platform that was introduced way back in 2014. Since then, the company has continued to extend the platform, for example, introducing functionality for customized and branded enterprise mobile apps in 2017.